Heifer Show - Sunday, April 3, 2022 at 10:00 am
The Heifer Show will feature juniors aged 9-12 exhibiting their top-notch yearling females. Participants will have the opportunity to showcase their 2021 born heifers, while competing for breed champions and a chance at the Champion title.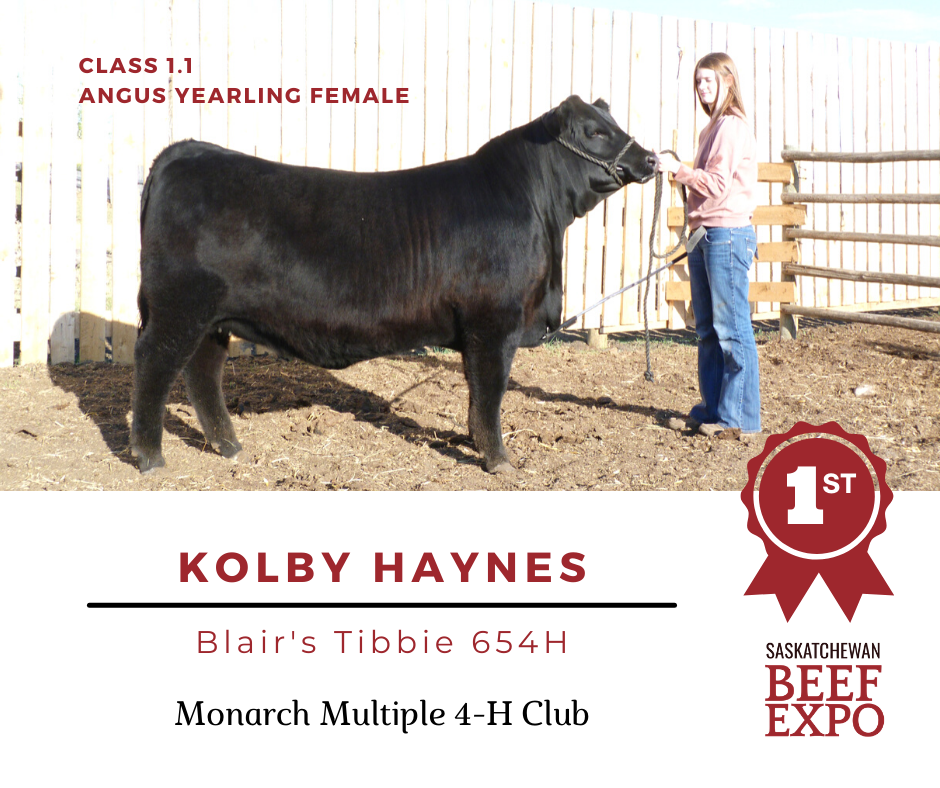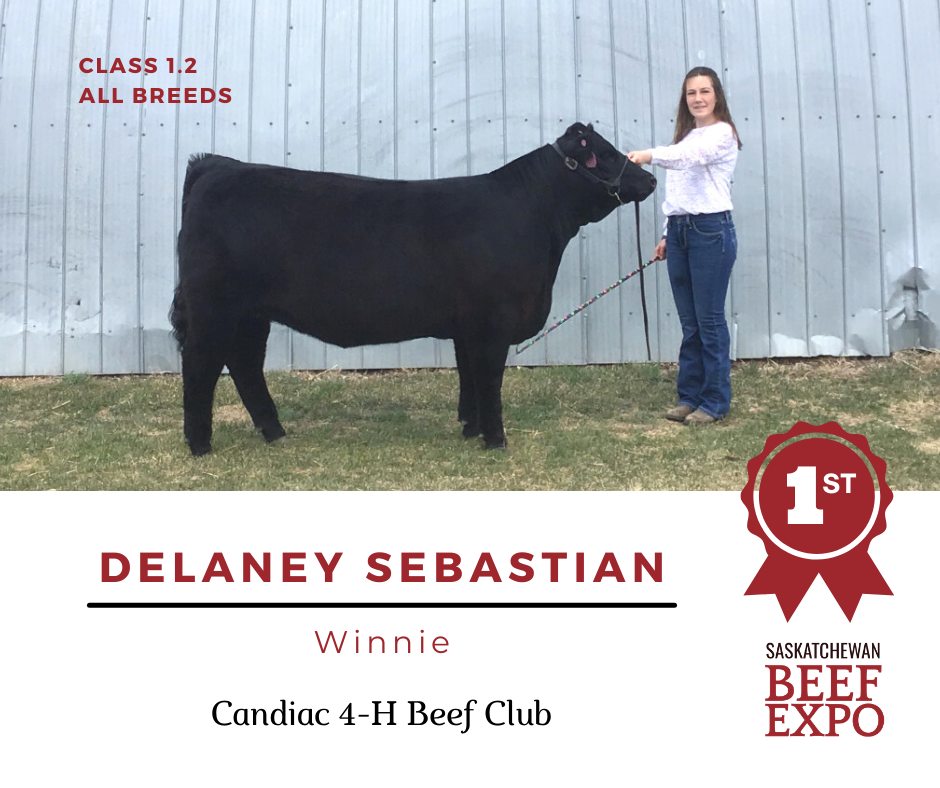 Class 1 – Yearling Heifer Born in 2021
This class will be divided by breed of sire and birth date
Class 2 – Grand Champion & Reserve Grand Champion Yearling Heifer
Top 2 animals from all divisions of Class 1 will compete
Open to both purebred and grade animals of any recognized beef breed. Animals will be judged as breeding animals.
One heifer entry per exhibitor. Entry must be owned by a family member or be the exhibitors 4-H project.
The breed of the animal shall be determined by the BREED OF SIRE unless designated otherwise in the classification.
Animals are eligible for breed special awards by one breed only.
The Saskatchewan Beef Expo Committee reserves the right to cull any animal of inferior quality.
Animals must be stabled on the grounds by 4:00 p.m. Friday, April 1, 2022. Stabling available starting Friday, April 1, 2022 at 9:00 a.m.
Release Time: Following completion of the show, Sunday, April 3.
No adults will be allowed in the show ring.
FEES: Entry fee of $25.00+gst per animal and Environmental fee of $5.00 + gst per animal paid at time of entry.
Entries Close: March 15, 2022
Class #1 will divided into individual breeds providing there are at least four animals entered of the same breed. Prize money will be paid for each breed class provided. If 12 or more entries per breed class are stabled, then the class will be split.
It will be the responsibility of the person who made the entry to advise the Saskatchewan Beef Expo Show Office of any cancellation of entries.
Stabling Space will be allocated to the number of animals that arrive.
Animals must be stabled at all times in designated areas only.
We encourage parents work with their children, just not do it for them. That adults and parents keep in mind that this is an educational opportunity for the participants of the show and therefore limited parental involvement is encouraged.
Grand Champion Heifer
Kolby Haynes, Monarch Multiple 4-H Club
Reserve Grand Champion Heifer
Leah Libke, Monarch Multiple 4-H Club
Grand Champion Heifer
Riley Bohrson, Hanley, SK
Reserve Grand Champion Heifer
Aiva Bieber, Wolsely, SK
Grand Champion Heifer
Owen Willms, Dundurn, SK
Reserve Grand Champion Heifer
Alexandra Johnson, Saskatoon, SK
Grand Champion Heifer
Heather Leblanc, Ogema, SK
Reserve Grand Champion Heifer
Hayden Elliot-Nelson, St. Brieux, SK
Grand Champion Heifer
Emily Froelich, Perdue, SK
Reserve Grand Champion Heifer
Kylie Willms, Dundurn, SK
Grand Champion Heifer
Cadence Haaland, Hanley, SK
Reserve Grand Champion Heifer
Cole Reid, Hafford, SK
Grand Champion Heifer
Maguire Blair, Drake, SK
Reserve Grand Champion Heifer
Serena Franc, Prince Albert, SK
The Heifer Show took place Sunday, April 3rd, 2022 at the Prairieland Ag Center in Saskatoon, SK
GRAND CHAMPION YEARLING HEIFER:
KEATON HAYNES, BIGGER, SK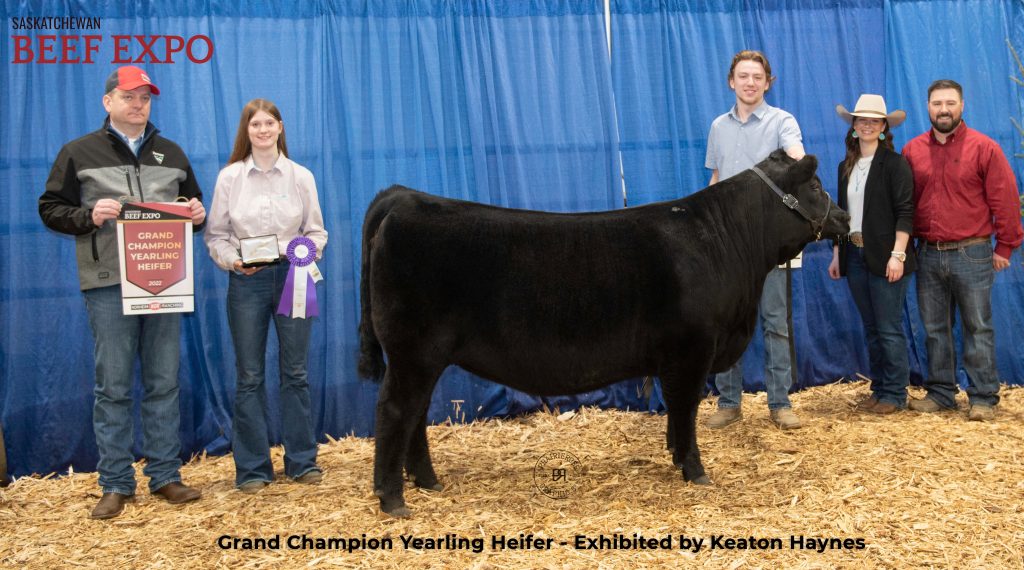 RESERVE GRAND CHAMPION YEARLING HEIFER: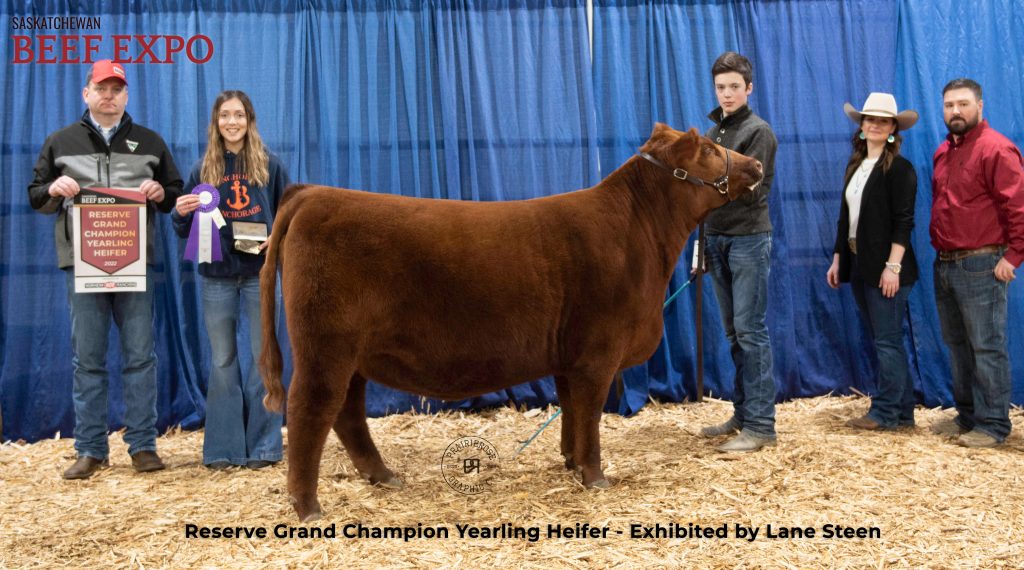 CHAMPION CHAROLAIS YEARLING HEIFER:
KATIE KOLENSKY, PERDUE, SK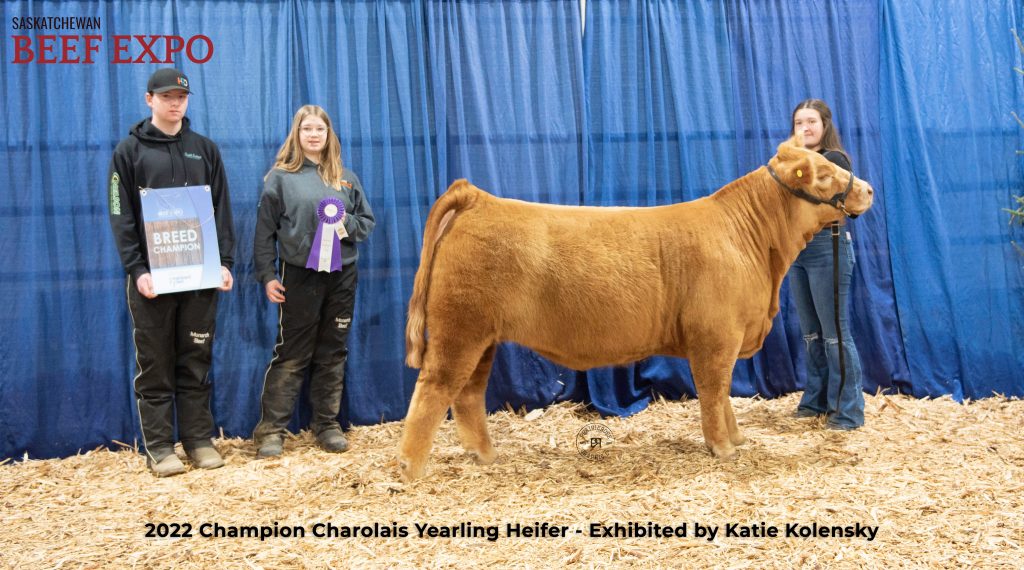 RESERVE CHAMPION CHAROLAIS YEARLING HEIFER: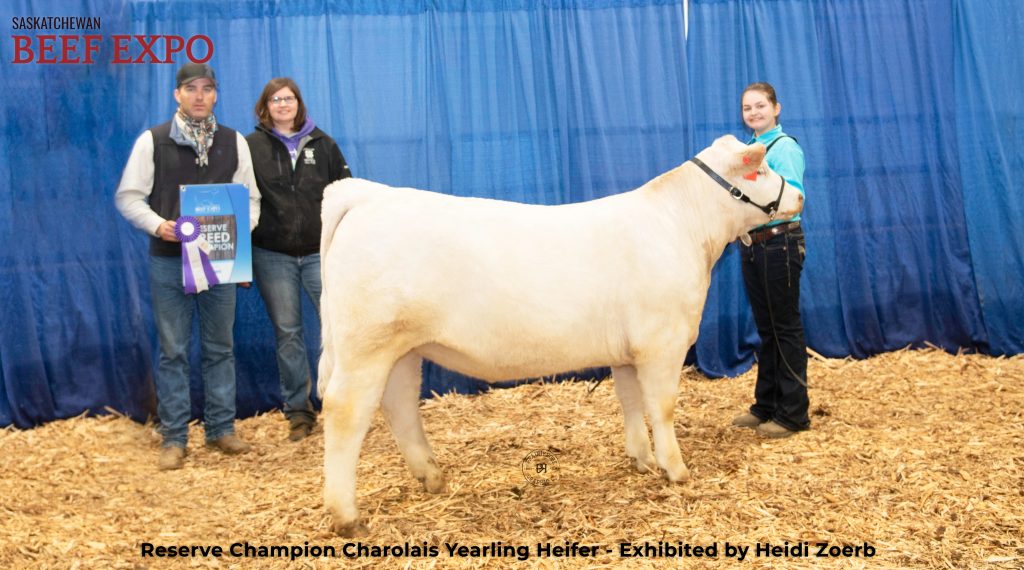 CHAMPION SIMMENTAL YEARLING HEIFER:
LAYLA DORKO, SHELLBROOK, SK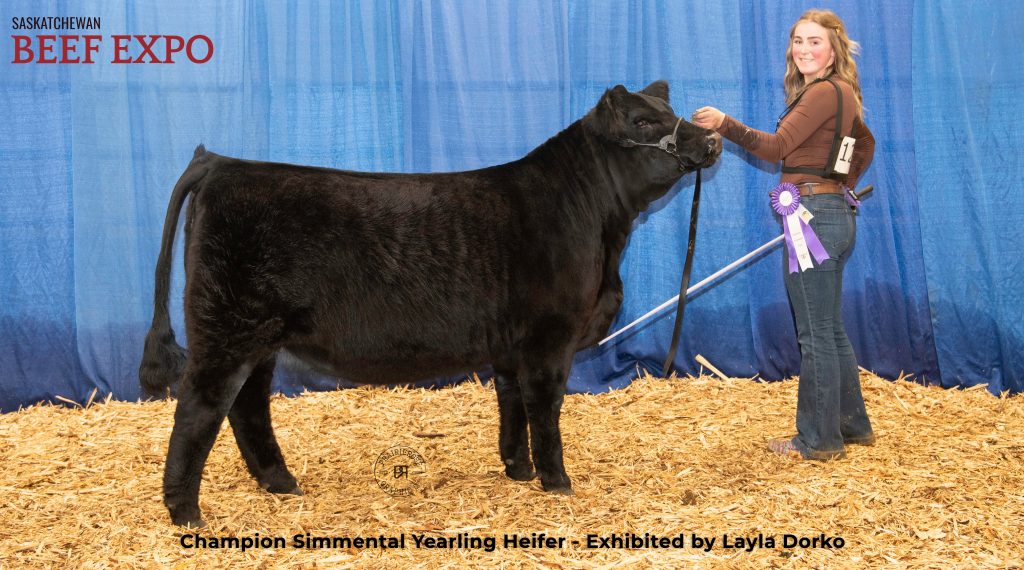 RESERVE CHAMPION SIMMENTAL YEARLING HEIFER: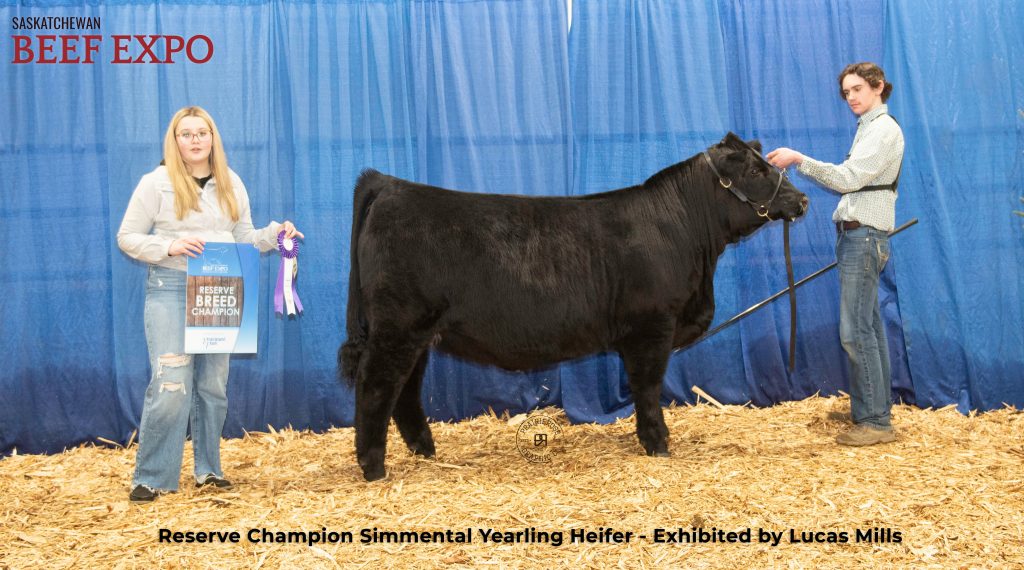 CHAMPION ANGUS YEARLING HEIFER:
KEATON HAYNES, BIGGER, SK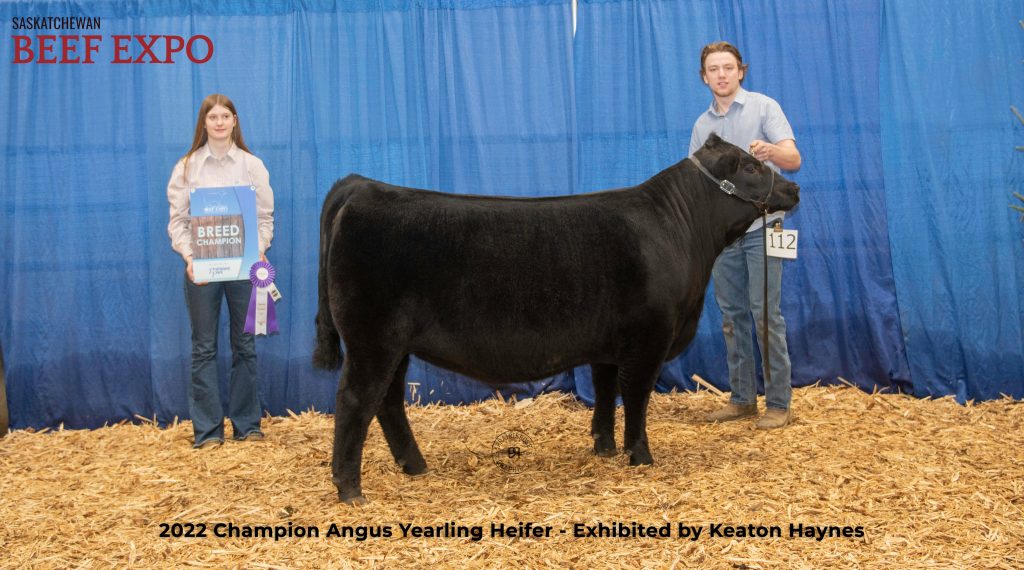 RESERVE CHAMPION ANGUS YEARLING HEIFER:
SIENNA BOHRSON, HANLEY, SK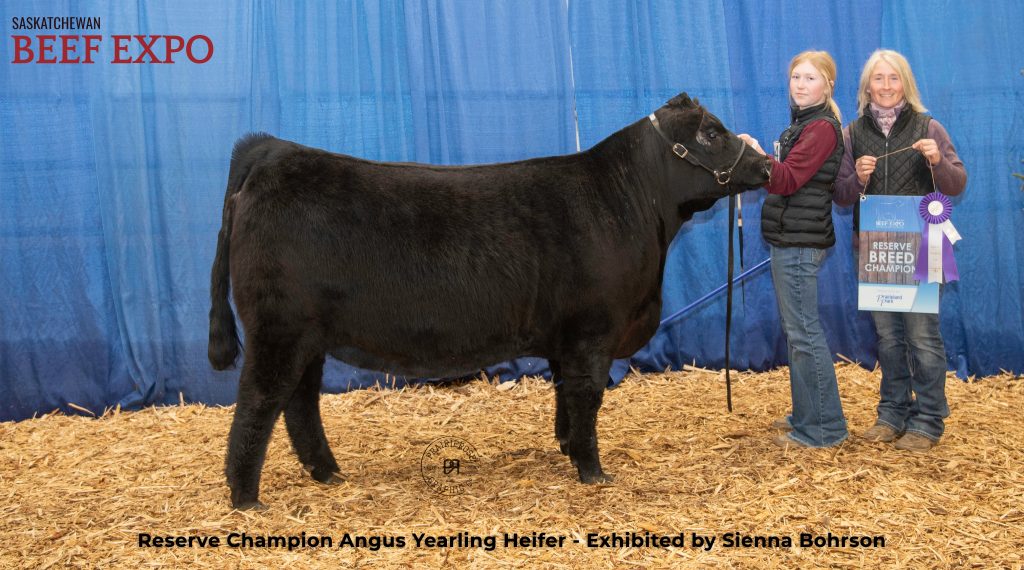 RESERVE CHAMPION ALL OTHER BREEDS YEARLING HEIFER:
DELANEY SEBASTIAN, MONTMARTE, SK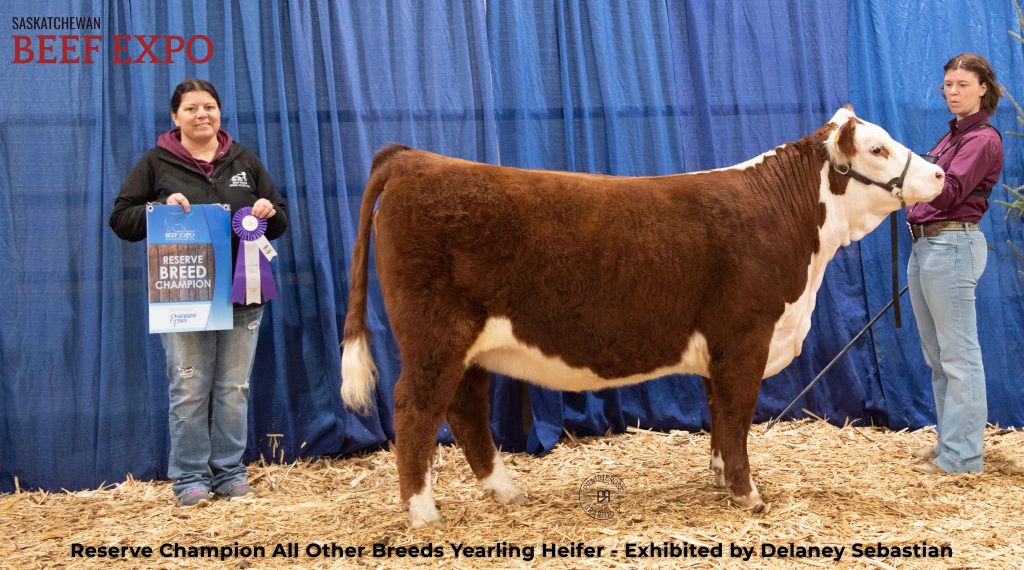 RESERVE GRAND CHAMPION HEIFER: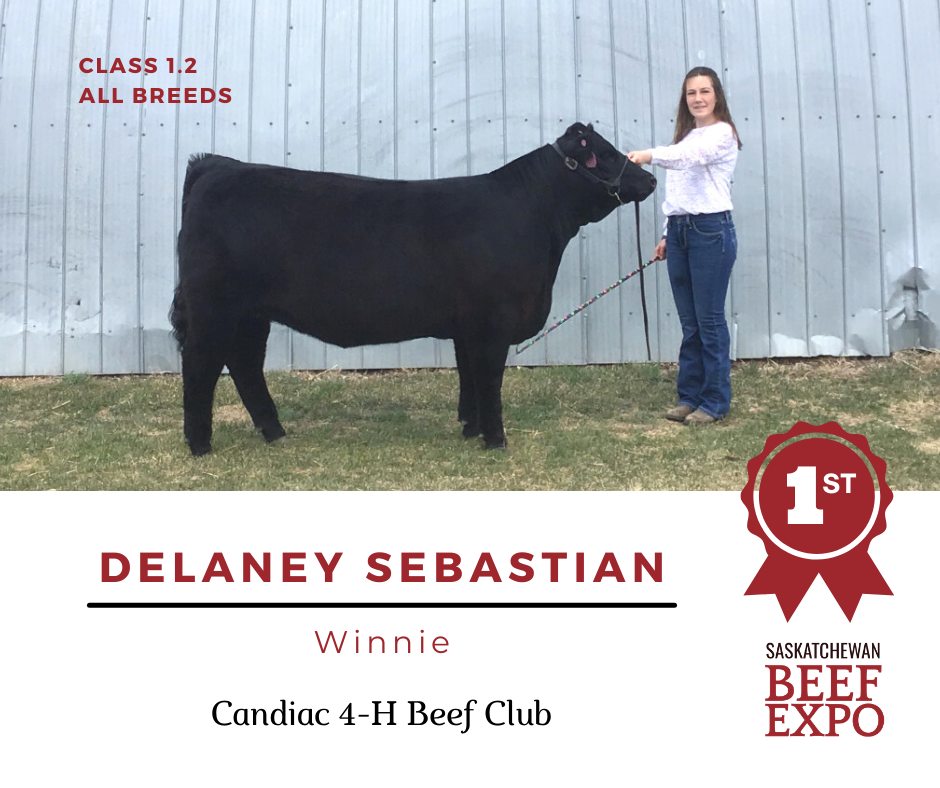 Grand Champion Heifer
Kolby Haynes, Monarch Multiple 4-H Club
Reserve Grand Champion Heifer
Leah Libke, Monarch Multiple 4-H Club
Grand Champion Heifer
Riley Bohrson, Hanley, SK
Reserve Grand Champion Heifer
Aiva Bieber, Wolsely, SK
Grand Champion Heifer
Owen Willms, Dundurn, SK
Reserve Grand Champion Heifer
Alexandra Johnson, Saskatoon, SK
Grand Champion Heifer
Heather Leblanc, Ogema, SK
Reserve Grand Champion Heifer
Hayden Elliot-Nelson, St. Brieux, SK
Grand Champion Heifer
Emily Froelich, Perdue, SK
Reserve Grand Champion Heifer
Kylie Willms, Dundurn, SK
Grand Champion Heifer
Cadence Haaland, Hanley, SK
Reserve Grand Champion Heifer
Cole Reid, Hafford, SK
Grand Champion Heifer
Maguire Blair, Drake, SK
Reserve Grand Champion Heifer
Serena Franc, Prince Albert, SK